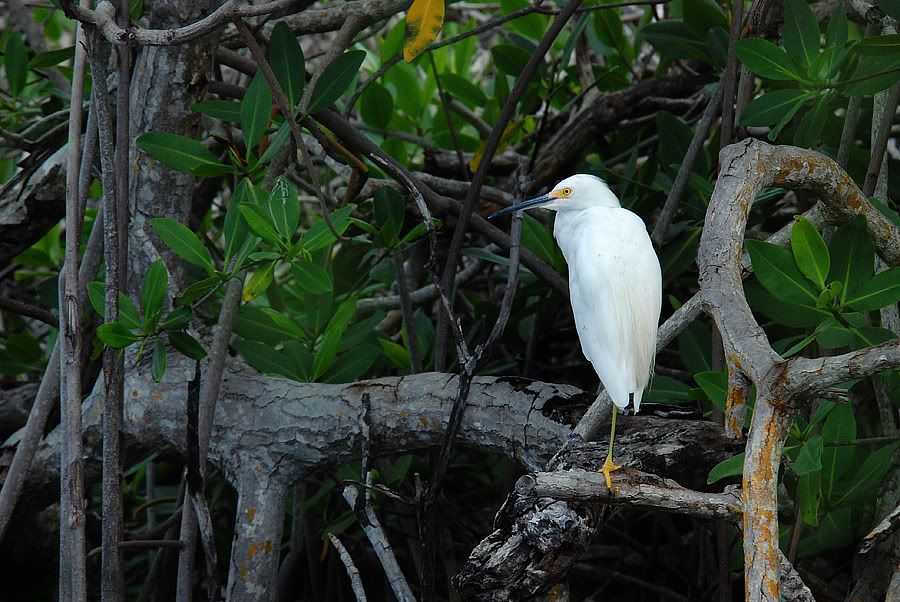 Egreta thula
Ambergriscaye.com
Ambergris is blessed with almost every species of Ciconiiforme found in the New World. Some are easy
to identify because of obvious color differences like the Tiger Heron, the yellow crowned Green Heron, or
the mature Reddish Egret. Others have odd shaped bills like the Boat Billed Heron. However, identifying the
island's Great White Heron from the Great Egret, Snowy Egret or immature Little Blue Heron sometimes
requires a closer look. I think I've got a system that can make it easy. The color of the eyes, bill and legs
seem to be the key.
BIG WHITE BIRD FEET BILL LEGS
Great Egret Black Yellow Black
Snowy Egret Orange Black Black
Cattle Egret Orange Yellow Orange
(Young) Little Blue Heron Black Yellow w/black tip Greenish
Great Blue Heron (morph) Yellow Yellow Yellow
Reddish Egret(young) Black Pink w/black tip Grayish Blue
The chart can be used as a short cut to recognition. By applying it, you can gain a background that
took most of the old birders several years to acquire. It has always amazed me how, when I identify a bird,
I suddenly see it everywhere.
I hope this list helps Ambergriseans to become aware of the multitude of birds with which we live,
or at any rate, avoid pointing with the comment, "Look! A Big White Bird.